Going by the age old adage, 'First impression is the last impression', living rooms play pivotal roles in forming that perfect notion about your home in the minds of the visitors. People of Houston are fashion conscious. Thus, it is expected that they will put in the efforts for enhancing the visual appeal of their living rooms. If you are one of them, let us go through some trendy ideas.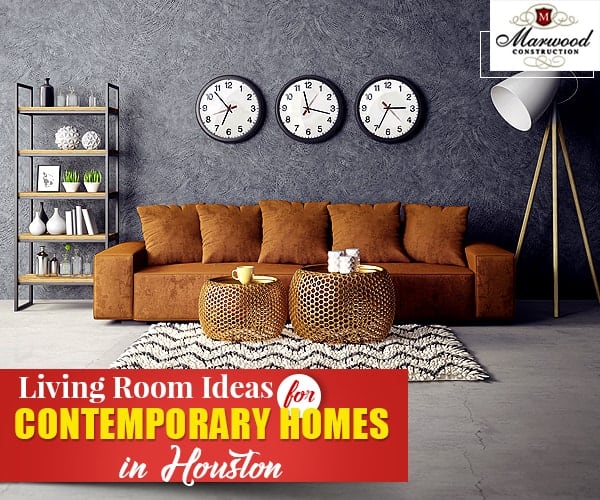 Classic yet modern designs for living rooms: For an inhabitant of an ideal contemporary home in Houston, it is a necessity to add modern designs which do not lose its relevance in coming years. Consult with your builder of modern homes in Houston and add classic design elements to your living rooms.
Bohemian living rooms: Ideas are not restricted when you are decorating your living room with a boho chic theme. What is interesting here is that focus is not put upon individual articles but the room as a whole. Usually, the room decoration is understated yet it reflects the personality of the homeowner. The wall paints could vary within the range of vibrant colors to neutral tones. The decorative items could include earthy busts or tribal masks. It could be as simple as your own creations like dolls made of cotton balls, clothes and straws. There is no rule while giving a bohemian makeover to your living room.
Scandinavian living rooms: Some homeowners believe in putting different things in the same pot. Apart from offering a cozy, relaxing space to guests, they want their living rooms to be multi-functional that also showcase their unique style statements. Scandinavian living room theme includes ample provisions for sitting, enough arrangements for lighting and other articles to make the ambiance cheery. Wall paints used are generally soothing but cheerful in nature. Homeowners can also include an additional fireplace in the living rooms to add warmth.
Colorful living rooms: This living room theme offers broad scopes of playing with colors and encourages you to use unconventional wall paints. Smart selection of wall paint colors and its application can make the living room appear to be airy and spacious. Colors remove the boredom from the living room.
Apart from wall paint colors, one could add individually selected paintings to make living rooms more colorful. Whether you want to add a quirky element and make your living room more inviting is dependent on your choice of paintings.

The biggest advantage of having a contemporary home is to explore the benefits of architecture. The same goes with the design of the living room. Constructing the envelope in an ideal way and see other things gradually fall in line. Let the original circulation of your home lead you to take decisions whether to narrow down or expand the central space or side regions along the living room. You can take a cue from custom home builders in Houston.
The city of Houston is known for its modern architecture. Since some well qualified licensed home builders are Houston based, homeowners can always get in touch with them for innovative ideas and its best usage.
Author:
Patrick Martin
Viewed:
210 Views
Check Out All Of Marwood Construction's Images, and Blogs!
Comments:
| | |
| --- | --- |
| Posted By: | Marwood Construction |
| Location: | Houston, Texas |
| Storeboard City: | Houston, Texas |
| Phone: | (713) 818-1720 |
| Description: | It was in 2002 that the Marwood Constructions surfaced and even today it continues to be a conspicuous player in the home building and remodeling industry. We at Marwood strive to build you a custom-home of your vision. We are the one-stop solution f... |
| Website: | http://www.marwoodconstruction.com |
| | |